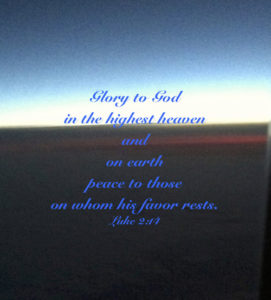 Advent – by its very definition is a period of waiting. It is a time of preparation of our hearts for the coming of Messiah, Redeemer, Saviour. Jesus.
It is when we reflect on past Christmases, when we read the verses from the second chapter of Luke, when we sing carols of angels and the Babe in the Manger, and it is when we pause and consciously, earnestly, deliberately worship The King of Kings. A time when we collectively remind ourselves of the first coming of Christ and look forward to the second coming of our Redeemer King.
As a child, I attended a conservative evangelical church and I knew nothing of Advent until my dad was stationed on an air base in West Germany in the early 60s. There I was introduced to the Advent Wreath- the practice of lighting a candle for each of the four Sundays before Christmas and lighting a fifth on Christmas Eve, then on Christmas Day all would be lit until they burned down. 
My family absorbed what we understood about it into our Christmas traditions. Even though we had no idea of its deep meaning, It evidently seemed like the thing to bring home from Germany. I still have the ceramic advent candle/wreath holder meant to hold live greenery around the base of the candles. It was the centerpiece of the dinner table and each Sunday evening during the Christmas season, as we sat down to eat, we lit the appropriate number of candles and when we were done we blew them out. It was a way to mark time up to Christmas. That was it.
Believers have different experiences and knowledge of how it's properly celebrated depending on the traditions in the church they attend. Yes, now I understand there's much more to Advent than lighting candles every week.
What I do know is that Advent, for some, is a far cry from the anticipation that most of us experience while waiting for Christmas Day to arrive with its presents under the tree and the celebration with friends and family. For them it's a time of dread- old memories of past Christmases haunt, the uncomfortable air around the table that was as electric as Ben Franklin's kite string in the storm as the family sat to eat together, the disappointment of forgotten gifts or thoughtless gifts or no gifts at all, the efforts made to please everyone so no one's feelings would be hurt, the rituals that must be observed, the sadness of being alone during the holidays, and the list can go on for quite a while.
Lets face it- Christmas time brings many feelings as it approaches.  Those of us who get more excited with each day marked off on the Advent Calendar may little understand the gut wrenching that's going on in another's life waking up each morning to look at the calendar and know that there's one less day between them and doom. For that is what it can feel like.
 I recently had a conversation with a friend about Advent. While I was looking forward to all the joy that Christmas brings, looking at it as I do with the grandmother filter on; she, however, had already started dreading it. For to her it brings trying to please loved ones who will not be pleased no matter what, it brings great efforts trying to keep the peace with all the dysfunctional personalities at the table and it means including people that she just feels too guilty to exclude from the Christmas dinner invitation even though their presence makes her just about lose her mind.  
She longs for quiet, non-commercial moments to remember the reason for Advent; for the coming of her Saviour.  She wants to meet Him in scripture and worship in solitude or with a few like minded friends. She long ago gave up the efforts of the presents under the tree in exchange for a few stolen peaceful moments in the hubbub that the season brings every year. 
She's lonely in the middle of the eager shoppers and most acutely feels the need to be alone to protect her own feelings in the midst of the loud commercial promises of waking up and finding the car with the big red bow in the drive, or the opening of the small package just handed out that the woman opens deliberately slowly, knowing it's a piece of jewelry and everyone watching the commercial sees the desperate hope in her face- will it be what she's wanted all season? Or not?
She sees the buying, helter-skelter shopping and decorating not as fun but as a shallow substitute for what Advent really is. The presents she buys are never enough- big enough, small enough, pretty enough, enough enough.This year, she's decided there will be none.
Over the years, she's found that she just does not want to be in a room with critical relatives who destroy the intention behind her gifts when she's put so much thought into the buying and even making sure she has the right wrapping paper for each gift. The dysfunctional family members who tear apart the meaning of the day with distress, dissension and disagreements she'd just as soon avoid altogether. 
She just longs to be with her Saviour.
Another friend lives alone and her family is miles away and emotionally distant. Those she knew as a child growing up are too old and feeble to celebrate or have passed on leaving great holes in her life especially at Christmas. She finds herself grieving more than celebrating. She mourns what was more than she enjoys what is.  She tries but it's just too difficult to expose those sensitive nerve endings again to sadness, separation, selective exclusion and a flood of other feelings that she is not able to keep in check.
She finds herself repeatedly pouring out those feelings at the feet of her Saviour.
Still another acquaintance will experience this year as a widow, again, for the eighth year. Yet-every year feels exactly like the first year.  Her children are grown and have created a whole ecosystem around their lives they are living and she's not a part of it. She sits by the tree in the evenings and reads the same verses that her husband used to read to the family when they were all together. 
Only now she's alone and the only one who hears her voice is her Saviour.
Others have many feelings of grief and sadness at this time and just want to be able to say they've survived and made it through another one. The empty spot of a child who's gone is grieved anew in the stark contrast of the lights of the tree and the ornament reminders of each year they were there and the years they've been absent. The inability to provide a proper Christmas dinner as the commercials push on us; or the perfect doll or toy for a child because there's not enough for extra. When there's never enough even for the day to day brings a hollowness, dark and hopeless to a parent's eye. Yet there's no escaping it- everywhere one goes the worldly world pushes itself upon us in the name of Christmas.
Would you pray with me for these brave souls who just want to worship the Saviour in peace? That Jesus will meet them just where they are and bring the comfort and joy only He can provide and that their worship at the manger will be uninterrupted and their hearts be full of  Him. Only Him. That they can shut out the world for just those few extra moments that are so badly needed before they step once more into the fray known as Christmas time. That their voice will be loud and clear as the angels' were on that long ago night when the song went out over the barren hills and hearts waiting for a Saviour heard the joyful news that He is come!