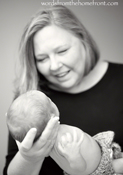 The Blog
During World War II the home front was the first and last bastion of defense. Those at home took care of business and defended their land while the soldiers were gone fighting on the front lines. We are in battles daily for our faith, we may not be on the front lines every day, but every day we are on the home front where battles small and large are waged. The home front is the place where ideas are formed, education begins, faith finds a foothold in our hearts and where we first understand that battles will come because of our faith.
We know the war is already won, but we also know that we are to be armed, and stand firm awaiting the return of the King.
Put on the full armour of God, so that you can take your stand against the devil's schemes. For our struggle is not against flesh and blood, but against the rulers, against the authorities, against the powers of this dark world and against the spiritual forces of evil in the heavenly realms. Therefore put on the full armour of God, so that when the day of evil comes, you may be able to stand your ground, and after you have done everything, to stand. Stand firm then, with the belt of truth buckled round your waist, with the breastplate of righteousness in place, and with your feet fitted with the readiness that comes from the gospel of peace. In addition to all this, take up the shield of faith, with which you can extinguish all the flaming arrows of the evil one. Take the helmet of salvation and the sword of the Spirit, which is the word of God. ~Ephesians 6:11-17
On A Personal Note
I saw Mickey Mantle play in the Original Yankee Stadium. Born in the last century. I'm a child of the 50s & 60s; came of age in the 70s.
I have been married 45 years to my best friend. We have 3 married children who have gifted and blessed us with 10 gloriously beautiful grandchildren.
I love our family. I love when we are all together: laughing and talking and eating; chasing kiddos all around the house or playing in the pool. The noise level rocks the roof; and then it's suddenly quiet, they've gone and recovery begins!
The most important thing in my life isn't a thing. It's Who. I believe that God is the creator and author of the universe. We are made in His image with a design and purpose that is of His making alone. I believe that each of us has chosen to go our own way and we reject and ignore the truth of God. In that rejection lies the sin of the world and its fate. I believe that the penalty of sin is death eternal and God alone is able to provide the rescue from death to life.  I believe that He sent His son, Jesus Christ, to be the rescuer, and when He, fully God and fully Man died on the cross for my sin and the sins of the world the price of my sin was paid in full.
I believe that to make the choice to believe in Christ and receive forgiveness for my sin is the only choice, that He is our only hope. I believe in His Resurrection back to life and Ascension to Heaven and one day He will return and all men will see and know. I believe all men have the choice to believe or to reject Christ and that their decision determines how and where they spend eternity.  I believe that my choice to believe in Jesus and what He has done for me and in me and through me results in a life lived eternally in His presence.
If you'd like to talk about Jesus, shoot me an email: nancy@72rocks.net
Trivial Pursuits
Books: There's not enough room here! I'm partial to fiction- scifi in particular, fantasy runs a close second and then there's historical fiction. A good biography has been known to turn my head and there's something about classical literature and poetry that touches me. Non fiction- I'm always reading for information. On my nightstand: Calvin Miller's Into the Depths of God.
Movie: The Wizard of Oz-always.
Cats: yes- they love me. What can I say?
Chocolate: absolutely
Dessert: Well, yes.
Song: Amazing Grace.
Music: Love. This may take a paragraph. I listen to a really eclectic list of music from Led Zeppelin to Coldplay to Mumford and Sons to U2 to Andrea Bocelli to Allison Kraus to Jack White, oh and I mustn't forget the Dropkick Murphys and John Prine. My comfort music is classical music- Bach, Handel, Beethoven, Telemann, Elgar, Mussorgsky, Grieg, Sibelius, George Butterworth, etc. I'm a huge fan of Michael Card, Phil Keaggy, Switchfoot – oh the list could go on and on….
Favorite quote about music:
"Secular music, do you say, belongs to the devil? Does it? Well, if it did I would plunder him for it, for he has no right to a single note of the whole seven. Every note, and every strain, and every harmony is divine, and belongs to us." – Wm Booth (founder of Salvation Army)
Tea/Coffee: both but I'm partial to hazelnut flavored coffee and hot tea of any variety just about – EXCEPT- Earl Grey (sorry, Jean Luc)
Conversation Starter: England. Just say the word.
Special Talent: I can make a baby smile quicker than you can say "Jack Robinson". I'm just wired that way!
My husband says I have an opinion on everything, my daughter says I pry (I'm a nurse by profession, of course I pry!). So if you meet me, we will talk.
Oh and one last thing- I don't get lost, I can usually get us wherever…that means I'm handy on a trip!
 My favorite saying: "This, too, will pass. Maybe like a kidney stone, but it will pass."